Microsoft Windows Server 2012 R2 Remote Desktop 50 User CALs – License Key
Pour garantir la sécurité & de paiement sécurisé
Microsoft Windows Server 2012 R2 Remote Desktop 50 User CALs – License Key
Description
Microsoft Windows Server 2012 R2 Remote Desktop 50 User CALs – License Key
The Microsoft Server Operating System is a valuable update for customers who aren't yet accustomed for the cloud or those who wish to keep their databases up to date and secure.
Once you have your Windows Server license in place – you then need to decide which client access license it is you need.
The license required to install and run most server applications usually comes bundled with the Microsoft Windows Server software itself. So you can install and run most applications "out of the box," as long as you have the correct number of client licenses and meet the server licensing requirements.
In some cases, though, you may need additional licenses in order to run your server software.
Depending on your licensing scenario, "clients" can either be on of the following: the end users themselves (employees, contractors, clients, and anyone who uses the software in question) or their electronic computing device (laptops, desktop computers, smartphones, tablets).
Some Key points About Client Access Licensing
Do your reading — Make sure you understand all the details about licensing a particular application.
Only purchase User CALs or Device CALs, not both —  legally you can use a mix of the two different types of licenses however you won't need to utilize most in many situations.
Several administrative client licenses are already included— Microsoft server products always include some client licenses for administrative use
You often need multiple licenses per client — A client (such as a user or machine) often needs multiple licenses when accessing one physical server. For example, if you use your desktop computer to access a SharePoint / Exchange / SQL Server on a Windows Server machine, you have to have a client license for each product.
Microsoft Windows Server Operating System software is the industry-leading server operating system software designed for it's unique and powerful server functions.
For a complete comparison of the features and differences between all versions, you can view the chart here. You can purchase other options and available versions on our store.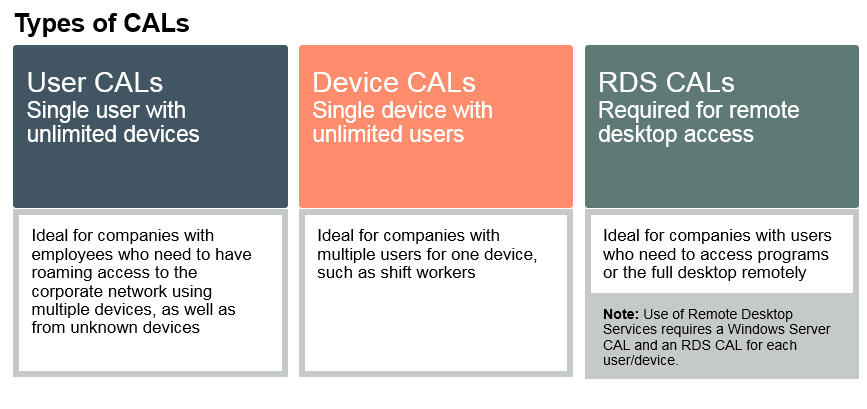 Once you have your Windows Server License installed; you have equipped your Windows Server with a Windows Server License you then need Client Access Licenses (CALS for short) to allow users or devices to able to connect to that server. So therefor every user (or device) needs a license to connect to the server.
You must purchase a CAL for EVERY user or device that connects or accesses the Windows Server Operating System.
There are three different types of CALs: USER CALs, DEVICE CAL and Remote Desktop Services (RDS) CALs.
USER CALs – Organisations purchase USER CALs for each person who accesses the server to use its services regardless of the number of devices they use for that access. This is particularly useful if you have multiple devices per person in your business so that only one CAL is needed to roam your corporate network or if one user has multiple devices to connect to the server.
DEVICE CALs – Organisations purchase DEVICE CALs for every device that accesses the server regardless of the number of people in that organization. This is particularly useful if you have a part-time staff or shift workers who need access to the server for example in a call center where the same machine is being used by multiple personnel.
Remote Desktop Services CAL's (previously Terminal Services CAL's) must be purchased to combine the Windows Server Operating System and the Remote Desktop Service Components. These are for business's where the users need to access programs on the desktop remotely. Therefor if you use remote desktop services you will need BOTH a Windows USER or DEVICE CAL as well as a RDS USER or DEVICE CAL for EACH user or device
Client Access licenses are available in many multiples so 1 / 5 / 10 / 20 / 50 user or device packs therefore providing you access, gaining the power to manage privileged identities, simplify management of HCI deployments, and seamlessly extend to datacenters in the cloud like never before.
With Windows Server, you use a CAL in one of two licensing formats: per user/per device or per server.
You make this decision when you are initially installing your Windows Server products prior to you acquiring the CALs –  you can use either kind of CAL in either licensing mode.
Per user/per device – is the one used most frequently. In this mode, you need one CAL per user or device that will be accessing the server software, regardless of the number of servers being accessed.
In per server – a specified maximum number of simultaneous connections to the server – lets say you have 10 CALs, Windows Server will let 10 authenticated users have access. The 11th user will be denied access. Per server mode works for some small businesses and charities or organizations with one or two servers and limited access requirements such as small offices and accountancy or consultancy firms.